By Trenay Tate
My freshman year of college, I was not completely sure about what I wanted to study. I have a lot of interests and hobbies, but it can be tough to transfer what you like into a career. Because I was undecided in my major, I was able to take some classes that sparked my interest to figure out what path fit me the best. Over the summer, I completed an internship with my mother's friend, Ms. Myleik Teele. She owned Art of Facts PR, an Atlanta-based public relations and marketing firm. During my internship, I learned a lot about the industry, internships and myself.
(Source: prefessionalu.com)

By Anna Swenson

Even if you've read twenty brochures and ten college guidebooks about a school you're considering, it can be tough to determine what life at that university is really like. Until your futon is moved into your freshman dorm, how can you really know what the campus community values are? By researching who makes the decisions for the university and who's paying attention to those decisions, you can get a sense of whether it's a campus community that's right for you. Below are three questions that offer a way to get a glimpse at aspects of a college that you probably wouldn't consider asking before attending your first class. Instead of basing your college decisions on a favorable ratio of girls to date, a reputation for wild social lives, or a shiny new gym, consider the following factors:

(Source: prefessionalu.com)
As the United States economy continues to show signs of promise and growth after going through such a painful financial crisis, its great to see veteran company's like Buick step up and find ways to help American families move forward. For the second consecutive year, the Buick Achievers Scholarship Program will be awarding 1,100 scholarships, including 100 renewable scholarships of up to $25,000 per year. Eligibility requirements include that applicants must be high school seniors or graduates or be current undergraduate students who are either enrolled or planning on enrolling in full-time undergraduate study at an accredited U.S. four-year college or university for the entire 2012-13 academic year (excluding proprietary and online schools).
(Source: prefessionalu.com)
By Justin Thompson
It seems everyone has an opinion on what a resume should contain, how many pages it should be and how it should be formatted. So as we enter into a new year, what are the universally agreed-upon elements that are in, and which ones are now passe? Here are some of the best practices when it comes to crafting your resume in 2012:
1. Stop trying to make 'objective statements' happen.
The days of including a career objective and/or professional summary are over. It's a waste of valuable space. Instead, just address this with a sentence in your cover letter about how the position you're applying for fits into your overall career plan. Get to business by starting with accomplishments and facts that are relevant to the job posting.
By Her Campus
Looking to get a head start on the hunt for your next summer internship? Polish up your resume and cover letter skills — here are some opportunities you can apply for right now.
1. Leukemia and Lymphoma Society Internship
What: Advertising/ Public relations
Who: All college students
Where: Tampa, Florida
Deadline: No deadline as of now
Looking to get some real world experience and do good for the world? Be part of the effort to put an end to cancer. Interns are responsible for preparing campaign materials and providing staff support for assigned special events. They are expected to work about 20 hours per week, and will also coordinate and maintain assigned campaign correspondence, financial records and statistical reports.
APPLY HERE
by Daniel Gulati
At a recent dinner party, I was speaking with a friend who had just been promoted to vice president at a well-known New York hedge fund. The promotion was unexpected, involved an immediate 50% pay raise, and came with broad new responsibilities. When he should have been feeling optimistic and excited about his new position, why did he look like the unhappiest person in the world?
(Source: blogs.hbr.org)
By Tami Luhby @CNNMoney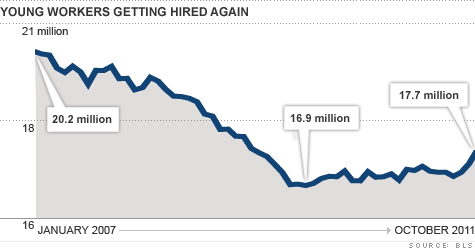 The total number of employed people ages 16-24 is on the rise.
NEW YORK (CNNMoney) — Young workers are landing jobs again.
Some 650,000 workers aged 16 to 24 found employment in the past three months, the biggest spike for that age group since the recession began, according to Labor Department statistics.
Young Americans were hit harder than most other groups during the Great Recession. Dubbed by some as "the lost generation," the unemployment rate for college graduates age 24 and younger hit an all-time high in 2010.